Whether you're heating your home or powering up an industrial boiler, you rely on having enough fuel at all times. That's why when you need heating oil and fuel delivered on schedule, whenever you need it, you can rely on the friendly and reliable distribution services from McWherter Petroleum Services. We make getting the right fuel for your home, farm or business easy.

Heating Fuel Delivery and More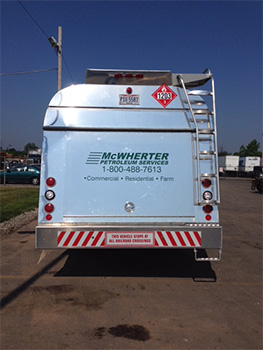 We deliver a variety of heating oil and fuels products to residential, commercial and agricultural customers throughout the greater Deleware, OH areas including #1 dyed and #2 fuel oil heating oils. In addition to our fuel and home heating oil distribution services we also supply:
Products:
Gasoline
Motor Oils
Diesel Exhaust Fluid
Greases
Hydraulic Oils
Cutting Oils
Water-Soluble Oils
Hoses
Pumps
Oxi-Boost Additive
J-Max Diesel Additives
On and Off Road Diesel
Services:
Bulk Fuel Delivery
Fuel Tank Rentals
Fuel Tank Installation and Removal
Pump Outs
Refrigeration Trailer Fueling
Standby Generator Fueling
Fuel Delivery to Fit Your Budget and Schedule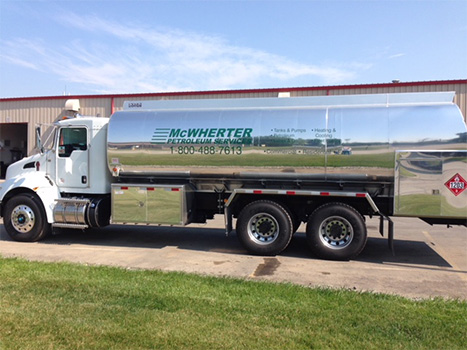 Whether you use heating fuel regularly or you need oil or fuel occasionally or on an as-needed basis, McWherter Petroleum Services in Deleware, OH has a delivery option to suit your needs and help you stay on budget. We offer 2 types of distribution services:
Automatic:

Our automatic delivery option means you never have to worry about running out of the fuel or heating oil you need. This method is based on your actual fuel consumption. You never have to schedule a delivery again and we bill you after we deliver.

Will-Call:

If you don't want us to schedule your deliveries automatically, you think you might need extra fuel because of anticipated extra use, or you don't use heating oil or other fuels regularly, you can choose to call us to schedule deliveries as you need them.
Our normal delivery hours are Monday through Friday between 8:00 AM and 4 PM and we will do our best to accommodate your schedule. After hours and emergency accommodations can be arranged. At McWherter Petroleum Services, we've been delivering and distributing oil since 1961. We're a small, local, family company and pride ourselves on getting to know all our customers.
For fuel distribution, heating oil delivery and a full-service petroleum company who won't treat you like just another number, you can count on McWherter Petroleum Services. Call us toll-free at (800) 488-7613 or stop by today!